IT'S HERE!!! The new trailer for the remake of Poltergeist has finally hit the internet. Even if you're a die hard fan of the original horror classic, this remake does look pretty creepy and seems to have a few extra scares than the first. After the jump, check out the new trailer and also find out about the weird site that ties into the movie. A site that allows you to find out, if someone died in your house. That's if you're not scared to do it.
If you pay attention to the very end of the trailer, you'll notice a website link for DiedInHouse.com. You can use the special promo code POLTERGEIST to get one free search to find out if anybody has died in your home or at that location. A snapshot of that part of the trailer is below: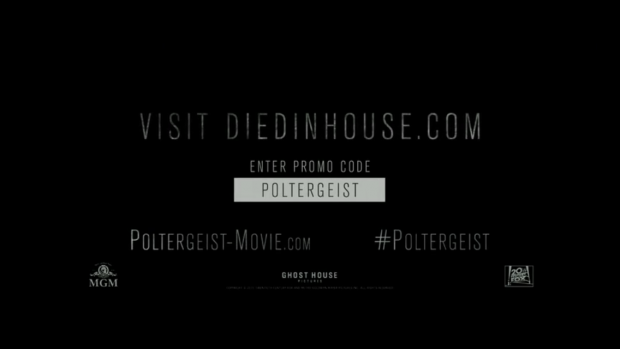 Although some may consider this to be an extremely morbid tie-in to a movie, you have to admit that it's one of the better ways to make a product or website part of your marketing campaign. I went on the site and put in my address and luckily, no one has died in my home. You can also pay to see if your house has ever had a fire or if it's ever been the location of a meth lab.
So did you like the trailer? Does it peak your interest or make you madder about it being remade? Have any of you tried out the site yet? Let us know in the comment section below what you thought of the trailer and if you found out that you might living on top of an Indian burial ground.
The new Poltergeist remake haunts theaters on July 24th, 2015. The film is directed by Gil Kenan (Monster House) and written by David Lindsay-Abaire. It's produced by Sam Raimi (The Evil Dead films, Drag Me To Hell) and Rob Tapert(The Evil Dead films.) The film stars Sam Rockwell, Rosemarie DeWitt, Jared Harris, Nicholas Braun, Jane Adams, Saxon Sarbino, Kennedi Clements, Kyle Catlett, Susan Heyward, Soma Bhatia and Karen Ivany.
You can check out Poltergeist-movie.com and they're official Twitter for further updates on the film.