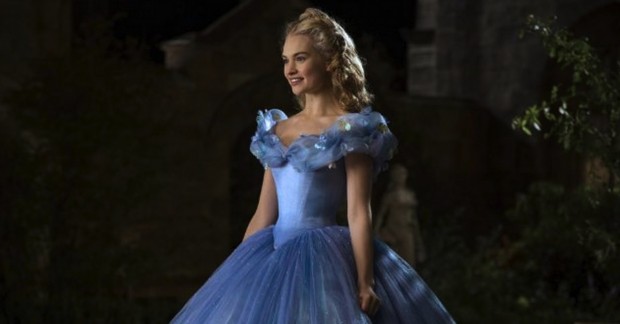 Disney's business of adapting their animated classics into live-action films may be perceived as tired or a quick cash grab (maybe even both), but there are a few films that fall through the cracks, films that can actually be considered good. Cinderella just happens to be one of those films, in fact, it is very good. This new vision of the fairy tale classic remains faithful to the animated film that it is based on, but also expanding upon it by building on its characters and their relationships. The fact that director Kenneth Branagh doesn't repeat the some of the same mistakes that previous live-action fairy tale films gives us hope that Disney is now on the right path with these new adaptations. Cinderella is nothing short of enchanting, beautiful, and one of the best fairy tale revisions seen in recent years. Hit the jump for the full review
At first sight, Cinderella certainly lacks the star power that Disney's previous live-action adaptations had. Alice In Wonderland had Johnny Depp, while Oz: The Great and Powerful had James Franco. Even Maleficent had Angelina Jolie. Here lesser known actors Lily James (Downton Abbey) playing Cinderella and Richard Madden (Game of Thrones) playing Prince Charming (or Kit) taking the lead, while bigger names like Cate Blanchett, who plays the Wicked Stepmother taking somewhat of a smaller role. Not that star power is everything, especially since the on screen chemistry between James and Madden, the story, cinematography, score, and production design, are probably the most appealing parts of the film.
Now the film isn't exactly a rehash of the original 1950s animated film. We do get a little bit of back story of the titular character and how she came to be. Ella's loving mother taught her that having "courage and being kind" would help her through any of life's difficulties. As the story progresses, how much of those words she will live by are put to the test, especially when her stepfamily enters her life, and pushes her to the brink.

While we may have all heard the story before, the performances from the cast make it all worth the watch no matter how many times it has been adapted over and over again. Lily James lights up the screen with her sunny disposition and unbreakable will as Cinderella. No matter now hard she is pushed, the titular character manages to find that there is kindness, and that acts of kindness will be repaid tenfold.
Richard Madden does have a likability factor, especially since he is playing a prince who doesn't want to let Cinderella know that he is one. That trait and sense of humility is refreshing to see, and it makes him quite charming.
Cate Blanchett and Helena Bonham Carter play the Wicked Stepmother and Fairy Godmother, respectively, quite well. And while the two key roles they play don't quite steal the movie, not that it is meant to, but their presence is definitely felt.
But it is that on screen chemistry between James and Madden that allows us to believe in relationship between. The way it develops during the course of the film has us liking the two even more, especially when Prince Charming invites every lady to the ball just to find her and when she just wants to go to the ball just to see him thinking he is just a simple apprentice. It no longer plays off of the notion that there is a fairy tale ending and instead has us believing that the relationship is real.

Dante Ferreti has done an excellent job working on the production. The set pieces from Cinderella's country home to Prince Charming's exquisite castle are breathtaking, and the use of CGI to enhance the look of the world feels organic, and doesn't lose sight of the magic and luster of the source material nor does it saturate the audience with an obvious shiny computer gloss.
You really have to hand it to Sandy Powell for creating such beautiful costumes pieces. As a guy who has zero fashion sense, it's hard not to notice the eye catching dresses in the film. Both Ferreti and Powell will defintely be in the running for a few awards.
Cinderella is definitely a film that caught me by surprise, especially since films like Alice in Wonderland, Oz: The Great and Powerful, and Maleficent nearly all look the similar. Of course with every fairy tale film there is romance – just enough to make you shed a few tears – and entertainment -just enough to have you cheering for the characters. But when it comes down to it, Cinderella is a enchanting film that needs to be seen on the big screen.
Yes, Frozen Fever reunites the cast (Kristen Bell, Idina Menzel, Josh God, Jonathan Groff, and Santino Fontana) for a singing spectacle that is fun. "Making Today The Perfect Day" is no "Do You Want To Build A Snowman?" and it doesn't even come close to "Let It Go," but for the tone of the film, it definitely works. Quirky and fun, Frozen Fever pairs really well with Cinderella as an opening act to the main event.