You may want to take a break from the superhero blockbusters of Summer. You might want to see a raunchy comedy instead. Well, then you possibly want to see The To Do List, which opens in theaters tomorrow. Read our review after the break.

In The To Do List, Aubrey Plaza plays Brandy Klark, a nerdy and robotic valedictorian who just graduated high school. She has everything planned out for summer, but that all goes by the wayside when she meets the dreamy Rusty Waters (Scott Porter) at a graduation party. In order to be the kind of girl he'd be interested in, she creates a new To-Do List of sexual acts with the last one being to lose her virginity to Rusty. She gets help from her more knowledgable best friends Fiona (Alia Shawkat) and Wendy (Sarah Steele), all while working a summer job at the public pool under her bum of a boss Willy (Bill Hader).
The twist that makes this film a little interesting is that it is set in 1993. At first I thought it was simply a gimmick to mine comedy from the nostalgia and "look how silly people were" mentality, but it actually works well for the film's plot. Much of the humor comes from Brandy not really knowing what the most of the things on her list are or how to do them, and with the Internet these days, there is no excuse for that. However, there is plenty of jokes about the early 90s, so people in my age group (late 20s to early 30s) are sure to love those moments.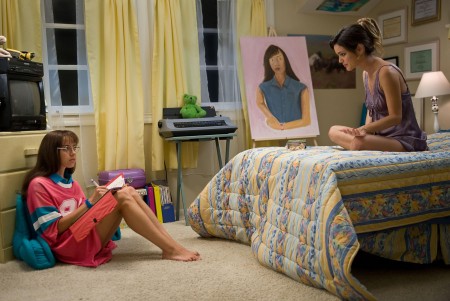 The film has an interesting tug and pull (pun intended) between being innocent and raunchy. It finds a way to be both a lot of the time, though it does have a few unfortunate moments where its tries a little too hard to be raunchy (like the homage to a particular scene in Caddyshack). The film has no nudity, but plenty of sexual behavior. Also, despite all the talk about sex and losing virginity, the moral of the story has little to do with love. It's an overall odd mix that makes the movie more appealing to me.
The cast is what really makes this film. The thin plot allows for the steady stream of hilarious actors to do their thing. The OC's Rachel Bilson makes a welcome return to the big screen as Brandy's sister Amber. Connie Britton (American Horror Story) and Clark Gregg (The Avengers) play Brandy's parents, and Johnny Simmons plays Cameron, Brandy's friend who has a crush on her. Other notable cast include Christopher Mintz-Plasse, Andy Samberg, Donald Glover, and Jack McBrayer.
While The To Do List isn't on par with some of the other sex comedies like Superbad, this film is a solid romp that is worth adding to your Summer movie to-do list.
Rating: 3.5/5