The two recent trailers from Frozen, starring Kristen Bell, broadway legend Idina Menzel, comedian Josh Gad, and Jonathan Groff, gave the impression that something was missing and that it was only scratching the surface. This is very true. MovieViral was invited to the Roy E. Disney Animation Studio in Burbank, California for an exclusive behind-the-scenes the look at Frozen. Aside from some of the lighting and audio, the film is complete. Though only 30 minutes of footage was screened at the presentation, Frozen looks to be one of Disney's best animated films yet. During our trip to the acclaimed studio, we learned that a great deal of things go into a Disney animated film.
From the directors Chris Buck (director of Tarzan and Surf's Up) and Jennifer Lee (writer of Wreck-It Ralph), Frozen is Disney's 53rd animated feature. In the film Anna (Bell), a fearless optimist, who must brave the harsh icy cold conditions to find her sister, Elsa (Menzel), the Snow Queen, whose icy powers have trapped the kingdom of Arendelle in an eternal winter.
So if you wanted to know how many computers were used to complete one frame? Or Which gender is the most difficult to animate? Why the Disney team brought Dr. Snow in? What kind of software was built? Where did Disney Animators travel to study and research for Frozen?  Hit the jump to find out more about this, plus a look at some very exclusive images from the film.
(Update #1) The original full quote from Frozen's head of animation Lino DiSalvo has been added to number 14.
(Update #2) A Disney Spokesman has released this statement in regards to the controversy that occurred last week when this article was posted:
"Animation is an intricate and complex art form. These comments were recklessly taken out of context. As part of a roundtable discussion the binaries was describing some technical aspects of CG animation and not making a general comment on animations females versus males or other characters."
The original report follows.
The Basics
1. Frozen is loosely based on Hans Christian Andersen's The Snow Queen.
2. Because of the film's unique story and antagonist, the first two trailers are acting like set ups. The first one was to let you know that Frozen was coming, while the second one established the story. The third and final one should feature the musical numbers that were heard at the D23 Expo and be more character centric.
3. Frozen is one of the rare animated films that actually got the principle cast to record their voices together. Not only did this build better character chemistry, but it also led to improv. Kristen Bell and Idina Menzel recorded their voices together 8 to 9 times over a span of two years.
4. Depending on the shot, it can take up to 4,000 computers and 30 hours just to complete one frame.
5. The film took up to four years to develop and complete, but the story truly came together and started to crystallize a year and a half ago.
6. Using snowflake generating software, there are up to 2,000 different snowflakes that can be seen in the entire film.
7. The film's setting is inspired by the landscapes of Norway, and Wyoming during the winter season.
8. Bobby Lopez (Avenue Q and The Book of Mormon) and his wife Kristen were constantly rewriting songs as the complex story kept evolving. Since they were based out in New York, the two met up with the directors for two hours a day via Skype, where they discussed simplifying the characters' wants and needs.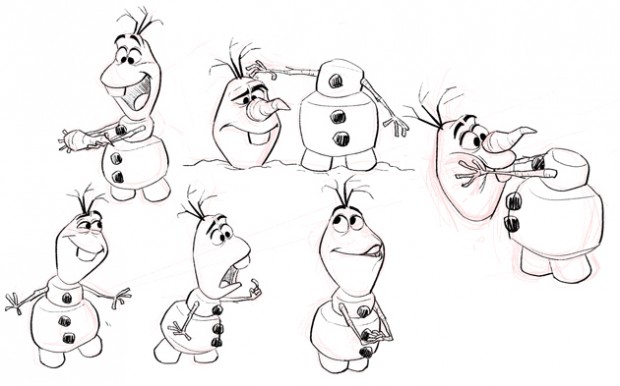 Olaf
9. In very early versions of the movie, Olaf was suppose to be one of the first guards of Elsa's palace. Chris Buck compared that version of the character to a trial run or someone's first pancake where the cook throws out the pancake when the cook finds out that it is burnt on the bottom.
10. In order to keep him from getting too complex, Chris Buck and Jennifer Lee wanted Olaf to have a childlike innocence. Like when a child makes a snowman for the first time where the heads are never perfect, and the body is disproportionate. That was the idea for the directors when they were thinking what kids would think of a snowman.
11. Josh Gad, the voice of Olaf, did plenty of improv during the course of the recording sessions. But the directors were very careful not to have him in too many of them or risk him taking over the story. He is there to interject levity to the scenes. But they also gave him proper screen time.  One of his major scenes will be when he sings his musical number "In The Summer."
12. Olaf had to earn his place in the film. Jennifer Lee says that he couldn't just be thrown in, that he had to have a purpose, and one of his purposes is that he is the embodiment of the love between Elsa and Anna.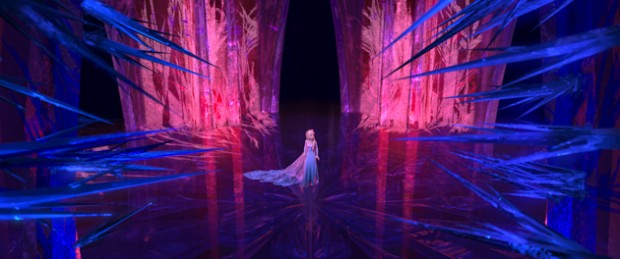 Animation process
13. Just in effects alone, it took over 50 people to make the the scene of Elsa building her ice palace during her musical number. According to the directors, it took "forever" to render.
14. Animating female characters are extremely difficult. They have to go through a range of emotions, and having a film with two female characters and building distinguishing aspects was hard. (Updated) Here is what Frozen's head of animation Lino DiSavlo had to say about some of those difficulties:
"Historically speaking, animating female characters are really, really difficult, 'cause they have to go through these range of emotions, but they're very, very — you have to keep them pretty and they're very sensitive to — you can get them off a model very quickly. So, having a film with two hero female characters was really tough, and having them both in the scene and look very different if they're echoing the same expression; that Elsa looking angry looks different from Anna (Kristen Bell) being angry."
(Update #3) In regards to the the contraversy and the released statement, it should be noted that Jennifer Lee (along with Chris Buck) is the first female feature director from Walt Disney Animation Studios. Becky Bresee, Supervising Animator for the character of "Anna", was also present when DiSavlo's made the original statement. In addition, Lisa Keene also handled some of the key art production in the film.
15. The goal of a screen test is to define the primary cast. Using no dialogue, these characters walk in, are presented with a situation, they react, and then they walk out. For example Anna gets hit by a snowball, the way she reacts in a playful and optimistic manner is her defining moment. Then she walks out. This goes on for the rest of the cast. Screen tests will lay out the foundation and set goals for the animators to getting truth in acting.
16. A variation of thumbnails and video recordings were used to help the animators perfect Anna and Elsa.
Elsa animating supervisor Wayne Unten explored different thumbnails of all possible poses, and different ways the characters move. He then took what he felt would work and composed them together. Things he looked at ranged from angles of the pose, silhouettes, tension, and then he put them all into what is called a "blocking pass."
Anna supervising animator Becky Bresee would film herself dozens of times acting out certain scenes to make sure she would get the performance she wants. Getting a little personal, she would film herself doing this scenes with her dog, husband, and even her daughters.
17. Part of the animation process included bringing in Idina Menzel to talk to DiSalvo, where up to 60 different animators were crammed into one small room to learn and discuss techniques, singing, and most important aspect of all: breathing.  Animators would take video recordings of Menzel singing "The Past Is In The Past" and watch subtle things like diaphragm movement, neck tension, cloth, lighting, and breathing. If it would make the performance more believable, it will be included.  According to the animation team, there has to be a certain level of believability that needs to be there before the shot could be approved.
18. Kristen Bell's voice lend itself to the character of Anna. While viewing film recordings of the voice recording sessions, animators would notice subtle things like Bell biting her lip a lot. These subtle things were taken into consideration when animating characters.
19. Despite it being CG, there is a lot of hand-drawn animation that goes into projects like Frozen. Some critiques have CG animators doing rough drawings of characters in 2D. The principles are the same, but the end result is the appeal and entertainment.
20. Some of the best CG animators have never hand drawn.
Click here to continue reading the 50 Things You May Not Know About Disney's Frozen.