Richard Curtis' About Time follows Tim Lake (Domhnall Gleeson) whose father (Bill Nighy) tells him that the men in the family have the ability to travel back in time, but cannot change historical events, but change the events in his life for the better. A chance encounter leads him to find the love of his life, Mary (Rachel McAdams), and from there Tim's life will never be the same.
MovieViral had a chance to attend the film's press day and interview the stars of the film and the director himself. In our interview with Bill Nighy, the actor talks about what it was like to work on Curtis' final film, working with McAdams for the first time, where he would time travel to, and some of his upcoming projects. Hit the jump for more.
This film is much more than a romantic comedy. There seems to be some focus on the relationship between the father and son. When you read the script did you see it that way?
Bill Nighy: The main narrative is Domhnall Gleeson and Rachel McAdams and that relationship is kind of the central one, but I was very pleased with my part in it. When I act, I don't access scenes from my early life or anything, but it was nice to say something about being a dad. I was lucky, I had a very decent, very quietly remarkable father who I was close to, and so in a sense I hope that to some degree it honors my father because he was not unlike that kind of character.
What was it like to work with Domhnall Gleeson?
Nighy: Honestly – and I know they all say this, but it's not PR – he was completely dreamy to do business with. He's a lovely young man, and he's a great actor. Some of those scenes are quite high-powered, but he operates without fuss. There was very little discussion about it. We just went into them and seemed to do pretty good together. I was very, very seriously impressed by him. He's a lovely actor, and he's a very nice guy. He's a very cool guy to hang out with. And Punch Drunk Love is his favorite film, which is also one of my favorite films. I figured he was a regular guy.
What did you think of Rachel McAdams?
Nighy: I think she's absolutely incredible. I know everyone says that, but she's just incredible. She does 360-degree acting. You can't see around the back, but there is no back. It's just entire. She's touched, as they say in the cliche, by genius. She's fantastic. I think she could do anything. She's breathtaking. Do I make myself clear?
Is there anything you'd like to change or relive, in your own life?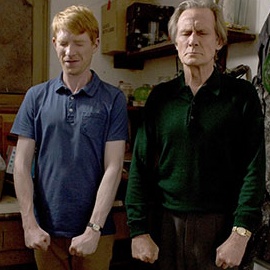 Nighy: I would like to change everything, but obviously not everything. I've been incredibly fortunate. I guess everybody would do this, but I'd go back to my younger self and say, "Lighten up. Take it easy. Relax. Don't be so anxious about everything. Try to be in the day. Try to not have today stolen from you by anxiety about yesterday or tomorrow." It's exactly what the film suggests, in fact, but it's easier said than done, as my mother would say. I would certainly go back to the guy that offered me a cigarette and say, "Are you out of your mind?!" I would certainly say that, there's no question about that. That would have made my life a lot easier.
I'd also use it shamelessly as a living jukebox. I'd go back to 1962, to the Apollo Theater to see James Brown and The Famous Flames perform that now legendary concert. I'd go see B.B. King, and maybe some early Bob Dylan. I'd go see all that stuff I missed 'cause I was just too young, at the time. To be serious, the things you really want to relive are things like bedtime with your daughter when she becomes incredibly entertaining 'cause she doesn't want to go to sleep. They're at their most enchanting 'cause they just want to put it off, so they do a cabaret for you. You sit there thinking, "Please don't let this end." You don't want them to go to sleep either because it's just too good. The movie makes everybody, including me, think, "I've really got to make the most of tomorrow. I'm really going to try to get the biggest bang out of everything."
What's next for you?
Nighy: I'm going back to India to make The Best Exotic Marigold Hotel 2, and everybody's back together. I've just made two films with David Hare, who is the other great thing in my life, apart from Richard Curtis. We've made a trilogy of films for television, and they're collectively called The Worricker Trilogy. I'm a spy, and I've waited a long time for that. In the second one (Turks & Caicos) and the third one (Salting the Battlefield), I got to work with one of my great acting heroes, Christopher Walken. I always figured he would be, but he's officially the funniest man I've ever met, in my whole life. It's like being punched in the stomach. He's just hilarious. And Winona Ryder was absolutely sensational. I go on the run in Europe with Helena Bonham Carter, which is tough.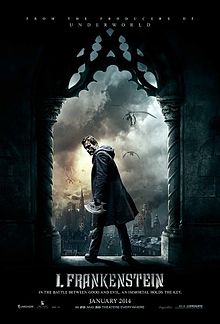 I'm also in a movie coming up called I, Frankenstein, made by the same people who made the Underworld series. Aaron Eckhart plays Frankenstein's creature, and I am not a very nice piece of work. That should be cool. It's a 3D movie, and it comes out in January.
Apart from that, I'm currently shooting a film called Pride. Unless we make a real mess of it, I think that's going to be a really, really cool movie. It's about the miner's strike in 1984, in England. Don't panic, it's a comedy. It's written by a friend of mine, called Steve Beresford, who was an actor. He's a brilliant writer, and he's made it so funny. It's about a bunch of gay guys in England, who saw that miners had been invented by the then-government as enemies of the state, and were being spat at in the street and beaten up by policemen. They thought, "That looks familiar," because it was tough being gay in 1984 in England. And they decided to raise some money for them, which many people did, to try to counter the shameful way the government was treating them, during that period. They became the second biggest fundraisers, and it's hilarious. They had a ball at the Camden Palace, in which the openly gay bands at the time – Bronski Beat and Erasure – played and raised thousands. It's the sweetest, funniest thing, and it's all true. It's a little bit of the truth, which you don't always get about that period. And it's got Dominic West, from The Wire, Imelda Staunton, Paddy Considine, and 29 other young, very cool, adorable men and women.
About Time is out in limited theaters now. The film opens nationwide on November 8.