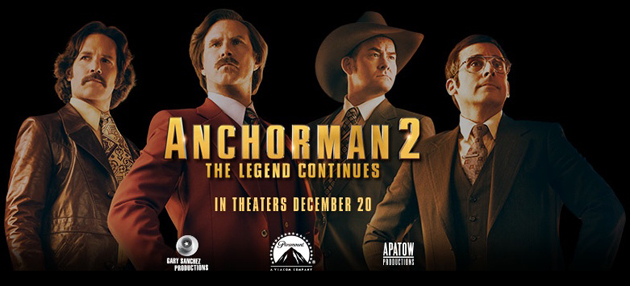 Anchorman 2: The Legend Continues promotions have been appearing on ads ranging from Dodge trucks and Ben and Jerry's latest flavor Scotchy Scotch Scotch to the most recent The Newsum Exhibit in Washington D.C. Paramount Pictures is going through a great deal of things to let you know this film is coming out in theaters later this year, and now the studio is turning to social media and the internet to increase their promotion for the film.
Using Instagram's new option for video, the studio, in collaboration with the EPIX cable channel, are launching a brand new contest that looks for the next best Ron Burgundy. The character portrayed famously by Will Ferrell will be the inspiration for this contest that is "kind of a big deal." Hit the jump to find out the details on how to enter and win.
The audition process is easy. To enter, participates are asked to visit the contest hub IAmRonBurgundy.com beginning November 21, 2013. David Koechner in his Channel 4 News Team member Champ Kind persona will hilariously explain how to enter in the "how to submit" video.
From there fans can upload a 15-second audition video via Instagram using the hashtag #IAmRonBurgundy and use the social networking tools on www.IAMRONBURGUNDY.com to campaign for votes. The entrant who receives the most votes by closing date December 1 will become one of ten finalists.
One lucky winner will have the unique opportunity to act as news anchor for the EPIX network and report from the red carpet of the Anchorman 2: The Legend Continues premiere in NYC on December 15, 2013.
The remaining nine finalists will be selected from local promotions taking place Thanksgiving weekend across the country. The Channel 4 News set will be on-site in shopping malls in major cities and fans will have the opportunity to create a "screen test" video and share their video with friends via social media. The top local finalists will be selected by a local TV news anchor in each market.
The search begins on November 29 in locations like New York City's AMC Lincoln Square Los Angeles' Westfield Century City, Dallas' Stonebriar Centre, Seattle's Northgate Mall, and St. Louis' Chesterfield Mall. The on November 30, the search will expand to Atlanta's Mall of Georgia, Denver's Cherry Creek Shopping Center, Cherry Hill Mall locations in Philadelphia and Cherry Hill, New Jeresy, and San Diego's UTC Westfield Shopping Center.
Directed by Adam McKay, Anchorman 2: The Legend Continues stars Will Ferrell, David Koechner, Paul Rudd, Steve Carrel, Christina Applegate, Harrison Ford, Megan Goode, and more. The film is also written by McKay and Ferrell, and opens in theaters on December 20, 2103.
Here's our early look at the Newsum Exhibit in DC, and check back in for more exclusive viral coverage on Anchorman 2: The Legend Continues.
With the 70's behind him, San Diego's top rated newsman, Ron Burgundy (Will Ferrell), returns to the news desk in "Anchorman 2: The Legend Continues." Also back for more are Ron's co-anchor and wife, Veronica Corningstone (Christina Applegate), weather man Brick Tamland (Steve Carell), man on the street reporter Brian Fantana (Paul Rudd) and sports guy Champ Kind (David Koechner) – All of whom won't make it easy to stay classy…while taking New York and the nation's first 24-hour news channel by storm. Produced by Judd Apatow, Will Ferrell and Adam McKay. Written by Will Ferrell & Adam McKay. Directed by Adam McKay.