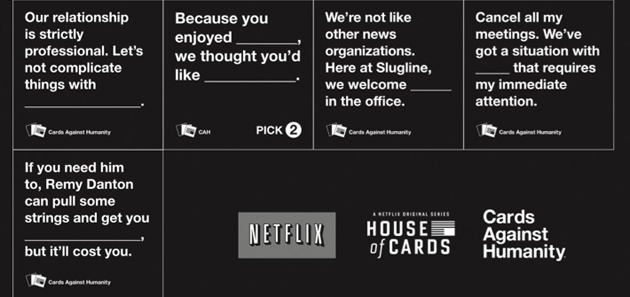 Netflix's original series House Of Cards just got a little bit more interesting. And when I say more interesting I mean more funny in the darkest most horrible way. In the days leading up to its season 2 premiere this Friday, February 14, Netflix and the team that brought you the horrible party game Cards Against Humanity have partnered up for a House Of Cards themed Cards Against Humanity extension pack. Now if you don't have Cards Against Humanity do not worry, as you can simply download the extension for free. That's right free. Hit the jump to learn more about this and to find out where you can get this themed extension pack.
Using the free downloadable blank cards, fans have been able to create their own themed extension packs ranging from Breaking Bad to Game Of Thrones, of course Cards Against Humanity have their own themed extension packs which include 12 Days Of Holiday Bullshit, which really doesn't need any explanation. But the House Of Cards extension pack is the first official pack to be released by the Cards Against Humanity Team.
The House Of Cards themed pack can be found on its official website.
What other themed packs would you like the Cards Against Humanity team to release?
Again, House Of Cards debuts its second second exclusively on NetFlix.
[Nerdist]