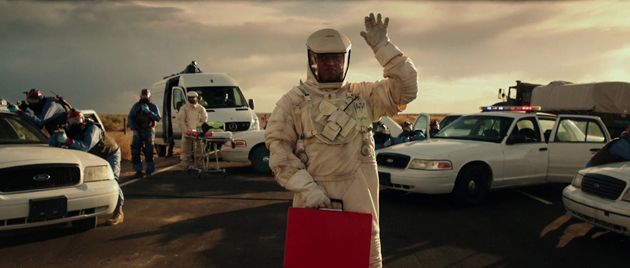 A recent string of websites and videos have been posing questions to the viewer. Under The Skin has been asking us when was the last time we touched someone. Now the 2014 Sundance Film Festival hit The Signal is also posing a question to you, except it's not as touchy.
The new William Eubank film blends both sci-fi and mystery elements together for a truly terrifying film. But as to what it's about, that is truly a mystery, as what you will see won't really explain anything about the film itself. However the two new images and a strange trailer for the film provides the tiniest of hints. So hit the jump to see the new promotional material for The Signal.
Here's the viral video.
The website seen in the viral video uses a command page set up, and asks the user "R U AGITATED? Y/N" But if you type in the command code "TRAILER," you'll get the video above. There don't seem to be any other commands you can type into to get further into the site. Any other attempts to do so will see the "R U AGITATED" question again. However there is a countdown of sorts on the bottom of the page. According to the countdown the page will be updated at 10am tomorrow morning. It could be that the first trailer drops tomorrow, or it could be something else entirely.

Thanks to The Film Stage for reporting on the news first. Here are the three images from the film
And here is the vague plot description
Three college students on a road trip across the Southwest experience a detour; the tracking of a computer genius who has already hacked into MIT and exposed security faults. The trio find themselves drawn to an eerily isolated area when suddenly, everything goes dark. When one of the students, Nic, regains consciousness, he is in a waking nightmare… The Signal stars Brenton Thwaites, Olivia Cooke, Beau Knapp and Laurence Fishburne and is directed by William Eubank.
The Signal opens in theaters in June.