This is some very resourceful marketing.
To hype up the release of it's first trailer in theaters March 28, Into the Storm has sent out a  handy-dandy survival kit. Warner Bros. has put together an emergency preparedness kit filled with glowsticks (for lighting the way not rave dancing), water, tools and guides to make it out of any devastating situation. This is good to have just in case on a day cloudy with a chance of something going horribly wrong. Check out the awesome swag that ComingSoon.net got after the jump.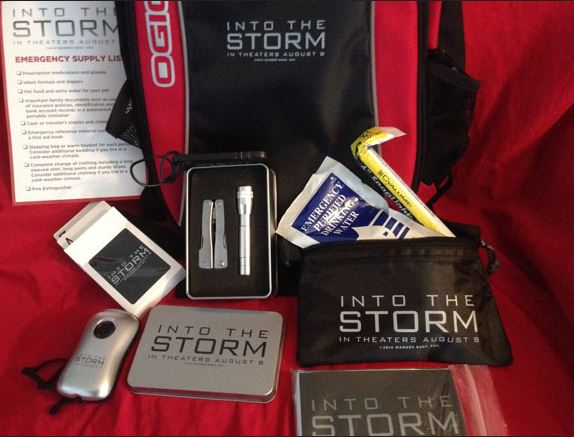 Into the Storm follows a group of high schools students whose town gets hit by an onslaught of tornadoes and they record their experience during the natural disaster. Think Twister meets Paranormal activity. The movie stars Nathan Kress (iCarly), Arlen Escarpeta, Jeremy Sumpter (Peter Pan), Kyle Davis (Catch Me if You Can), Jon Reep, Richard Armitage (The Hobbit) and Sarah Wayne Callies (The Walking Dead). May not be quite a change of pace for Armitage and Callies who aren't strangers to epic circumstance but the movie will likely not involve Hobbits or Zombies. Not much else is known about the movie as this kit is just a taste of what the characters need and we'll get a glimpse of the cast in action later this week.
For now we can just assume they're doing stuff…things.
Into the Storm hits theaters on August 8th 2014.