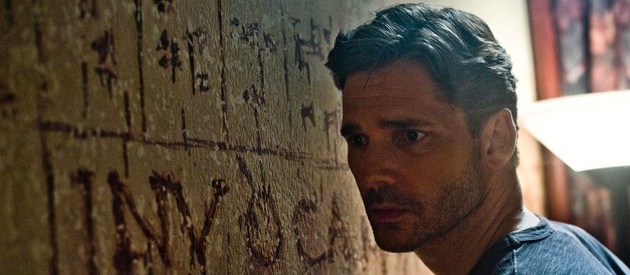 There are few if any viral videos inspires movies. So much of that is usually on the opposite of the spectrum because movie marketing makes way for great viral videos. But the upcoming supernatural thriller Deliver Us From Evil is a film that is actually inspired by a viral video, which is based on the accounts of real-life NYC police officer Ralph Sarchie. Hit the jump to see the new video plus a new poster for the film.
So what do you guys think? Real? Fake? Or do you need information?
In Deliver Us From Evil, New York police officer Ralph Sarchie (Eric Bana), struggling with his own personal issues, begins investigating a series of disturbing and inexplicable crimes. He joins forces with an unconventional priest (Edgar Ramirez), schooled in the rituals of exorcism, to combat the frightening and demonic possessions that are terrorizing their city. Based upon the book, which details Sarchie's bone-chilling real-life cases. Olivia Munn, Sean Harris and Joel McHale co-star.
Deliver Us From Evil opens in theaters on July 2.
Also here is the new poster for the film as first seen on ComingSoon.net.