There is no shortage of anticipation for Colin Treverrow's Jurassic World. The film crew has embraced the world of social media by posting teasers to get fans and followers amped up for the sequel. We recently saw just how bloody Jurassic World can get. And now we can get a small glimpse of what kind of activities Isla Nublar will have.
If you're interested in golfing, Jurassic World will have it; if your interested in a dinosaur feeding show, Jurassic World will have it; and to take an amusement park ride, Jurassic World has it. There will also be learning activities, and all sorts of things that will keep attendees occupied, if they aren't already running for their lives. Hit the jump to check out the full look at the Jurassic World brochure.
Never before seen photos from the upcoming new #jurassicworld film! The Jurassic World park brochure pic.twitter.com/9arhGkMv4h

— TRex (@jurassicp2k15) July 13, 2014
For all my #jurassicworld fans, here is an exclusive inside look into the park brochure #JurassicJune #jurassicpark4 pic.twitter.com/a7YWY2Z2gx

— TRex (@jurassicp2k15) July 13, 2014
Retweet if you would love 2 go on vacation to #jurassicworld people. The amenities at the park will blow your mind pic.twitter.com/PmYSax5B0C

— TRex (@jurassicp2k15) July 13, 2014
American Airlines has roundtrip flight packages to #jurrasicworld! Flyer miles are excepted! : ) pic.twitter.com/4HrFvsSxBh

— TRex (@jurassicp2k15) July 13, 2014
Which dinosaurs are all my #jurassicworld fans most excited to see? No need to speculate anymore, here is the list pic.twitter.com/ZAeuw1jt1u

— TRex (@jurassicp2k15) July 13, 2014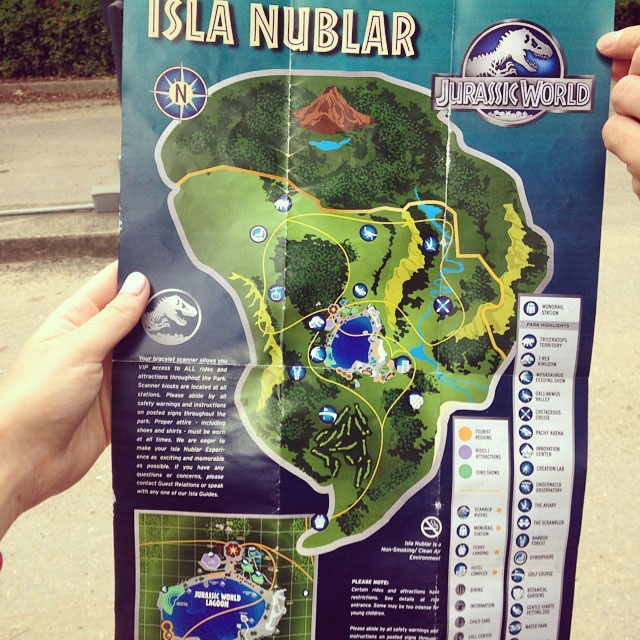 Pick up 22 years after the 1993 original, Jurassic World will be set on Isla Nublar once more, with the park acting as a fully functioning theme park complete with live dinosaurs. Opening in theaters on June 12, 2015, Jurassic World stars Chris Pratt, Bryce Dallas Howard, Vincent D'Onofrio, Irrfan Khan, Nick Robinson, Ty Simpkins, Jake Johnson, Omar Sy, and Judy Greer.