In Johnathan Liebesman's Teenage Mutant Ninja Turtles, crime runs New York City, and with its citizens' paralyzed with fear, only the Teenage Mutant Ninja Turtles can stop them. Working together with April O'Neil (Megan Fox) and Vern Fenwick (Will Arnett), the Teenage Mutant Ninja Turtles must realize their destiny and save the city from certain doom.
We had a chance to sit down with the both of them at a roundtable during SDCC.  During that time they talked about how their respective characters differed from previous incarnations, fond memories of TMNT, the Lost Boys, and being able to share this project with their family.  Hit the jump for more.
I remember Vern in the cartoons being a swarmy kind of character, can you describe how your incarnation differs from that?
Will Arnett: I think in the comics Vern had an adversial relationship with with April, but there has been through the various incarnations from the comics to the tv series to the movies there have been creative and artistic licenses taken in order to tell a particular story. As this movie evolved, and when we started shooting the script, it became apparent there needed to be an evolution, and there character they needed to partner up and support April, and Megan, they needed a character like Vernon, and they needed to change the rules with him. What is true with him is that he is a camera man, that part of it stays very true, but now he works well with April. Maybe some of his crankiness kinda transfers into something he looks for an easy ride, he wants to punch the clock and go home, and doesn't want to get invovled. So when April is like, I am following this story, he's like no, oh c'mon just let it go. Then he gets sucked in. I'm very skeptical. Ultimately they are good friends, and he does support her, and he goes along for the ride.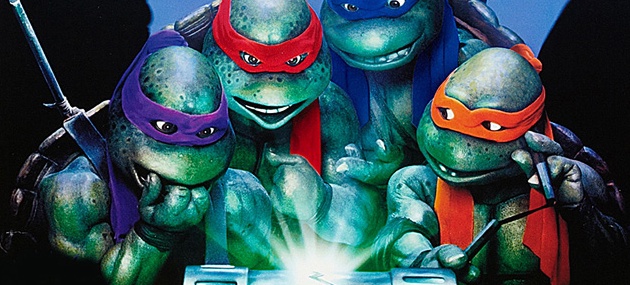 Do you have fond memories of TMNT?
Fox: I watched a little bit of the cartoon also, but definitely the live-action movies, but definitely the second one [TMNT II: Secret of the Ooze] was my favorite. It kinda has that feeling, I don't know if you have watched Lost Boys, I'm sure you have seen that movie, it sat like that capsule period of time, there was something so magic about that period of time, and that was a little later.
Arnett: I kind of knew them through the eyes of my brother, who knew them a lot better than me. But my new fondness came before the movie came into my sphere. My own kids watched the Nickelodeon show, and that is really terrific, and really funny, really good. And so I see how much they were enjoying it, and it sort of coincided with the movie, that time the other movie came out. Kids are going to lose their minds!
Have you been able to share anything with the little ones?
Fox: Well mine are babies.
Arnett: Her's were babies while we were shooting.
Fox: Well there was only one baby in my body.
Arnett: You got to tell me how that works one day. Yeah, my kids were able to come in and enjoy it alot, because we shot in New York last summer, and it was just so awesome having them there. They were so excited.
Fox: It is an interesting movie. So kids that are his age can see it and love it, but it's teenagers and adults – it manages to be one of those movies that spans all those generations. It's just bad ass all around. It's not too scary for little kids either.
Arnett: And yeah, teenagers, mutants, ninjas, they will all love it.

How is this April O'Neil different from any others.
Fox: She is not aware that she had to do anything with it, she didn't have really anything to do with it. But her dad is a scientist, whose experiements was being funded by a group.
Arnett: A shadowy figure.
Fox: Yes. There is a lab fire, and her father dies in the fire. She loses him in the fire, and it is not until she hears their names when she meets them on the roof that things goes firing off her brains, and she goes off and digs through her father's old lab notes, and his old books, and all of his stuff, and she discovers that these are quite possibly the little turtles she looked at in his lab before it burned down.
Teenage Mutant Ninja Turtles also stars William Fichtner, Noel Fisher, Jeremy Howard, and Whoopi Goldberg, with the voice talents of Johnny Knoxville and Tony Shalhoub.  It opens August 8.