We are just a day away from seeing what Marvel Studios will show us at Hall H, and one of the films fans are really eager to see is Avengers: Age of Ultron.  The highly anticipated film is still in the process of shooting, but that won't stop Joss Whedon and the cast of film from showing up and presenting what they've got.  And to help promote the film, Harley Davidson and Marvel has teamed up once more, and debuted an image of Black Widow (Scarlett Johansson) riding the new electric Harley Davidson.  And don't think this marketing ploy is of her just cruising around for some easy riding, it appears that there is some real danger.  Hit the jump to see the full image of the new photo.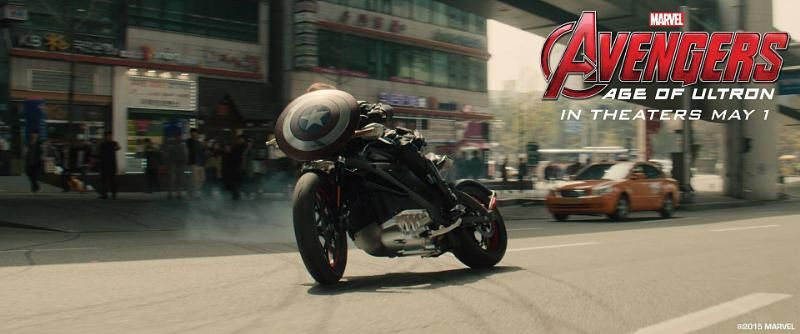 We don't know why Black Widow has Captain America's shield or who is she running from or after. That could be revealed at tomorrow's panel, or maybe not. We'll just have to wait and see.
The debut image helped kick off the Now, Project Livewire: The Experience Tour, which will help promote the company's first electric motorcycle. This isn't the first time that Harley Davidson and Marvel have teamed up for a marketing campaign. The two also worked together on Captain America: The Winter Soldier.
Also starring Robert Downey Jr., Chris Evans, Mark Ruffalo, Chris Hemsworth Jeremy Renner, Samuel L. Jackson, Thomas Kretschmann, Aaron Taylor Johnson, Elizabeth Olsen , with James Spader as the voice of Ultron, Avengers: Age of Ultron will open on May 1, 2015.