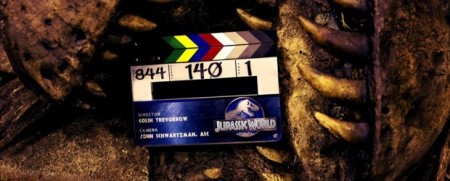 Jurassic World director Colin Trevorrow has embraced marketing his film through social media by posting all sorts of images. We've seen bloody cars, Jurassic World amusement part brochures, and more. So to mark the end of production for Jurassic World, the director tweeted out a teaser image of the T-Rex we will be seeing in the upcoming film.
But this may not be the end of these images. We could be seeing a couple more during the post production process, and let's not forget the reshoots. We still don't know much about the plot of the film, but what we do know is that the film will take place 22 years after the Isla Nublar incident from the first film. We also know that Guardians of the Galaxy star Chris Pratt will be the new lead in the film, and he will be joined by Bryce Dallas Howard, Nick Robinson, Ty Simpkins, Vincent D'Onofrio, Irrfan Khan, Jake Johnson, Judy Greer, and Omar Sy. Hit the jump to check out the full image, plus to check out a hilarious video of Pratt predicting he'd be in Jurassic Park 4 five years ago.
Wrap. pic.twitter.com/Wln3bVX87n

— Colin Trevorrow (@colintrevorrow) August 5, 2014
We've already seen Pratt prove himself to be a leading man in Guardians of the Galaxy, so it should be interesting to see if he could do it again for a different tentpole film, especially one as exciting as the Jurassic World.
We also have a hilarious video of Pratt predicting that he'd be in the Jurassic World five years ago, during a behind the scenes shoot of Parks and Recreation.
Jurassic World opens in theaters on June 12, 2015