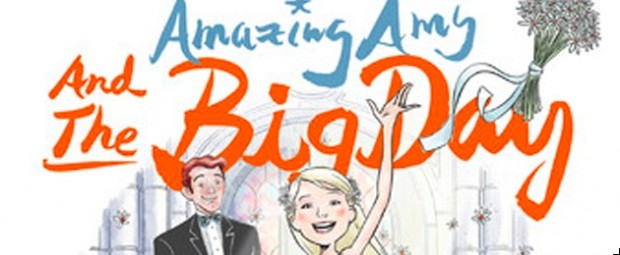 Smart phone apps are a fun way to help promote the film. While some of them are just generic puzzle games that lose its entrainment value in a matter of hours, others can be unconventional by actually being fun. But some aren't even games, some are actually promotional material that's self-aware going under names or titles used in the films, and if you are not familiar with the source material, it will fly under your radar. Kind of like the Amazing Amy series to help promote Gone Girl, which launched on smart phone apps yesterday.
To coincide with the release of David Fincher's Gone Girl, Fox released art work from the Amazing Amy series. The series of art is actually illustrated cover art for books written by the parents of the missing titular character, Amy Dunne (Rosamund Pike). Check out some of the artwork below.
The artwork was illustrated by Kirk Van Wormer, who was approached by Fincher to draw some material for the actual film. In an interview with Yahoo!, Van Wormer's assignment was to draw "adorable children's illustrations that remind us of the seventies." Looking at the preview gallery below, I think he accomplished that.
The three books, which you can download from the iTunes Book Store are reminiscent of the Goofus and Gallant series, and shows the titular character, Amy, in a precarious situation, but ends up always doing the right thing. Of course if you are familiar with the book or have seen the film, you may know that the popularity of these books only cause Amy to have more grief. And if you are not familair with the book or haven't seen the movie, this app will give you that ominous feel that Amy will meet her end in a horrific way.
On the final page you will see a number of links where you can buy tickets to the film, watch the trailer, visit the website, buy the soundtrack, or even buy the Gone Girl book.
Here's a description of the app.
Gone Girl Amy Dunne made national headlines when she disappeared on her fifth wedding anniversary—and her husband, Nick, was implicated in a series of shocking developments. But before she became the subject of a frenzied crime investigation, Amy was familiar to millions of children as the plucky blonde protagonist of the Amazing Amy books. Written by Amy's doting psychologist parents, these charming picture books address kids' burning questions, like: Should I always tell the truth? Can I bend this rule? Should I try a little harder? This sampler lets you follow along on some of Amazing Amy's adventures as she leads by example and makes good, smart, positive choices.
Gone Girl is now open in theaters.