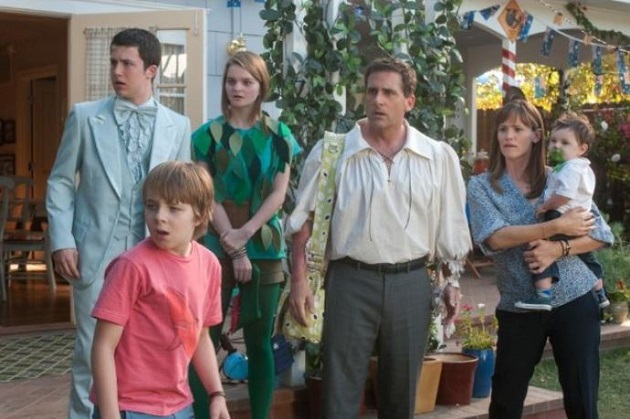 In Disney's latest live-action family feature we get to see how one kid's bad luck streak hits every member of his family for his birthday wish. Based on the beloved children's book by the same name by Judith Viorst, Disney brings an inspired retelling of the classic to modern families.
Hit the jump to read our full review of Alexander And The Terrible, Horrible, No Good Very Bad Day.
Newcomer Ed Oxenbould plays the titular Alexander Cooper and as his birthday draws closer, he begins to notice how no one, not even his own family seems to know his birthday is coming up. He's used to it though, and lives in constant belief that anything that can go wrong, will go wrong in his life. His friends dote on the class cool kid, he embarrasses himself in front of the girl he likes and becomes the laughing stock of the school when an unflattering picture gets spread around his classmates. In the movie, Alex wishes others could get a taste of what he goes through. Oxenbould nails the tween on the verge of growth into a more sympathetic person. He's relatable and shines when Alex begins to understand that everything doesn't only happen to him.
Under the direction of Miguel Arteta, the family flick is a faithful throwback to the live action Disney films about strong family bonds. When Alex sees his Dad (Played by Steve Carell) and Mom (Jennifer Garner) begin to experience calamity in their lives that threatens their work, it teaches Alex to begin to mature. The balance of the family's crazy bad day is a little all over the place but the bond every member of the family has to each other is incredibly present. Carell takes on the commonly feminine role in the family as the stay at home "fommy" seeking to find a job. He gives a wonderful performance as an affable father who's optimism persists despite what gets thrown at him. Garner plays the working mother in both the stronger head of family sense but also brings nurturing grace to her family even when her job is on the line. She holds it down even when cameo-star Dick Van Dyke publicly says an inappropriate word because of a misprint she is at fault of (He says dump a lot). However, the mom's storyline falls a bit short as it doesn't completely round out a stance on whether moms can have the balance of bread winner and present parent.  Would have been great to see Garner relish in showing she could do both. Dylan Minnette and Kerris Dorsey deliver very funny performances as Alex's older teen siblings. Minnette delivers one of the films best lines before his bad day with his straight faced, "#Blessed". Both teens also got to do some pretty dynamic stunt work for a Disney movie as Dorsey had to do some precarious wire work as a Peter Pan who's had a bit too much cough medicine and Minnette had some action in a driving scene gone wrong. The latter of which results in the Coopers barely making it home with a missing door in a broken down car. In that key scene, after all the madness everything ties together in true Disney fashion when Alex realizes that despite it all his family endured the bad day together. And that life lesson shows that him that he too can get through life and all it's bad days.
Parents and kids will feel #Blessed that they're not having the bad day the Coopers are. They'll appreciate each other more after seeing this fun family movie.
Grade: B