That's right, there are limited bottles of Sons of Anarchy JAX Daniel's Editions of Gentleman Jack Tennessee Whiskey floating around for a campaign celebrating Season 6 out now DVD and Blu-Ray. These detailed beauties have etched on them some pretty snazzy homages the show and came encased in a SOA coffin. Take a closer look after the jump!
Clearly S.O.A. and Whiskey are a match. After all those  twists and turns on the show, who wouldn't need a shot? These fun viral bottles were sent to various members of the media as a fun way to have a drink in honor of season 6 as the show comes to a close. Take a look at the fun etching they added to the label: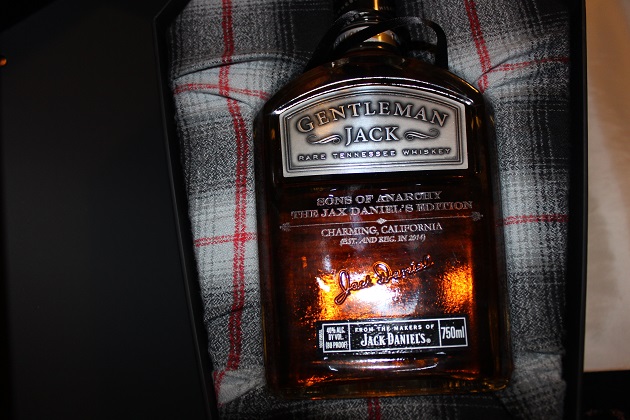 Suck on that, juice box!
Catch up on where Jax is while Clay and Tara are locked up and he leads his crew to finally realize his father's vision for SAMCRO with Season 6 on DVD/Blu. The set includes deleted scenes, commentary by producers and select cast members, a gag reel and some pretty nifty special features like character goodbyes. Sadly does not come with Whiskey but hey if Game of Thrones can have a beer, lets hope a union between SOA and whiskey can become more official!
Signal boost that.
Here's another look at the boxing and special etching on this beaut:
Sons of Anarchy Season 6 is out now!!!