It's mid-July, so that means San Diego Comic-Con is right around the corner. In fact, the festivities start this week with Preview Night on Wednesday. We at MovieViral will once again be covering the convention live from the floor, but this time will be a little different. We've been officially covering Comic-Con since 2010, and every year only I, Dan, have gone. Our other editors and writers have helped from home. This time, I've got back up, as three more members of our crew are joining me in San Diego: staff writer Michael Lee, contributing writer Caleb Hamilton, and event correspondent Joshua Butler. After the break, we'll give you a preview of what to expect from Comic-Con and our coverage.

While most of our readers already know about Comic-Con, if you really want to learn all about it and its history, then check out the official CCI website or Wikipedia. It's basically an annual convention for geekdom in all forms of media, including comic books, movies, novels, and more. This year's convention is from July 18th to July 21st, with Preview Night on July 17th. The show floor is a crazy mess of exhibitor booths, autograph signings, and tons of cosplay. There are also panels for all kinds of topics. While the convention itself is held at the San Diego Convention Center, almost the entire Downtown San Diego turns into Comic-Con City. Restaurants and other businesses get taken over by companies looking to extend the Con experience as far into the city as they can.
So, where does MovieViral come in? There's a few elements to our coverage. With this being our first year with multiple staff members on the ground, we should have more content than ever. We'll be live tweeting from @MovieViral and from the staff members' personal Twitter accounts. Below are some of the type of things we'll be covering.
Panels, Panels, and More Panels – This is where the meat of the convention is if you're a movie buff: the presentations by the movie studios. Hall H and Ballroom 20 are where most of the big name movie and television panels are located, but there are a few others in other rooms. We'll have at least one person most of the panels, and if we're not live blogging them, we'll be tweeting and doing a summary later in the day. When there are two of us, we will also do a few video reactions. We'll try to squeeze in some of the more oddball panels as well, as they are a lot of fun and provide a good idea of variety you can find at Comic-Con. See our list of noteworthy panels below.
Interviews and Press Conferences – While a relatively small time publication like ourselves doesn't get too many of these, we do get access to a few press conferences and talent for interviews. While some have already been confirmed, I don't like to say what they are until they are actually completed, since things can easily change at the Con. Whatever we do get, we'll either provide audio, transcribe it, or both.
Pictures and Videos – We'll be taking and uploading cool pictures and video of cosplay, booths, panels, promotional structures, and Gods know what else. We'll post various photo albums here, and all our videos will be on uploaded to YouTube and then here.
Gaslamp District – This iconic part of downtown San Diego is right across the street (and railway) from the convention center, and tons of cool stuff happens here, including screenings, giveaways, viral activities, and much more. It's also just a great place to hang out, so who knows what we'll find.
The Exhibition Floor – Between Preview Night and other times we have between events, we'll definitely be scoping out the exhibition floor of the convention. If there are any cool booths, we'll write them up in a round up article. This is also a good place to find some viral marketing.
Viral – Speaking of viral marketing, there is no way MovieVIRAL can go to Comic-Con and not cover our signature topic. We're always on the lookout, since this is THE event for studios to launch or solidify their viral campaigns. This year, we know that Godzilla will make a 'big' appearance, and I wouldn't be surprised to see some things for Enders Game, Robocop, The Amazing Spider-Man 2, and even a Predators sequel. We'll stay vigilant and keep an eye out for any viral marketing.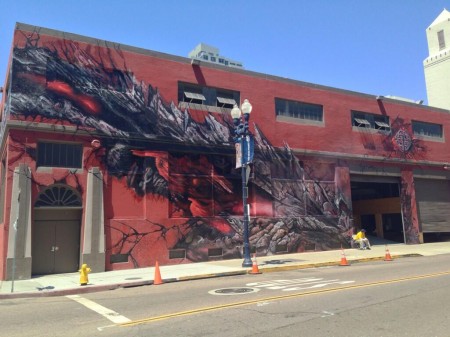 Noteworthy Panels
As mentioned above, Hall H and Ballroom 20 are where the big panels are, but there are dozens of others worth checking out. Go to the Comic-Con website to see the entire programming schedule, and use sched.org to create your own personalized schedule. Below are some of the panels we are most looking forward to.
Thursday
Europa Report – At the movies, it seems there's so much science fiction, but so little science. Sebastian Cordero's Europa Report seeks to change that. The film depicts a near-future crewed mission to Jupiter's moon Europa, seeking evidence for life in an ocean beneath the moon's icy surface. The movie uses current science to tell a story of discovery and danger. This panel features the film's crew and cast, alongside scientists involved with a NASA concept for a real robotic spacecraft, the Europa Clipper, designed to investigate the mysteries of Europa, including whether it has the elements to support life. Participants include Sebastian Cordero (director, Rage and Chronicles), Bear McCreary (composer, Battlestar Galactica, The Walking Dead), producer Ben Browning, and actress Karolina Wydra, alongside JPL scientists Steve Vance and Kevin Hand. The panel will be moderated by astronomer Dr. Phil Plait (Slate magazine, Phil Plait's Bad Universe). Space.com called the film "One of the most thrilling and realistic depictions of deep-space exploration since Moon and 2001: A Space Odyssey." 1:10pm – 2:20pm, Hall H
Enders Game and Divergent – Summit Entertainment presents a special sneak peek at the highly anticipated film adaptation of the beloved, award-winning novel Enders Game. This is a must-see for fans, who will be shown all-new, exclusive footage and treated to a Q&A with stars Harrison Ford, Asa Butterfield, Hailee Steinfeld, and Abigail Breslin, along with producer Roberto Orci (Star Trek Into Darkness) and director Gavin Hood (X-Men Origins: Wolverine). The panel will also feature the first footage ever seen of the futuristic thriller based on the #1 New York Times best-selling novel, Divergent. Cast and filmmakers will complete a Q&A sharing details of the project's transition from book to film. Panelists will include novelist Veronica Roth, director Neil Burger, and cast members Shailene Woodley, Theo James, Miles Teller, Maggie Q, Ansel Elgort, Mekhi Phifer, Ben Lamb, Ben Lloyd-Hughes and Christian Madsen. 3:50pm – 4:50pm, Hall H
Sherlock – Steven Moffat (co-creator, executive producer and writer), Mark Gatiss (co-creator, executive producer and writer), and Sue Vertue (producer) discuss the latest adventures of Sherlock Holmes and his long-suffering faithful friend, Dr. John Watson. Coming to PBS Masterpiece during the 2013-14 season. 2:15pm – 3:15pm, Ballroom 20
Hannibal: Feed Your Fear – Emmy Award-winning executive producer Bryan Fuller (Pushing Daisies), director David Slade (The Twilight Saga: Eclipse), Martha De Laurentiis (Red Dragon), and star Hugh Dancy (Agent Will Graham) reveal juicy morsels from behind the scenes of the groundbreaking NBC drama Hannibal. This feast of many courses will serve key moments from the first season as an entree, followed by a digestif of sneak previews of the second season. Not to mention a few surprises along the way. Bon appetit, Fannibals! 6:45pm – 7:45pm, Room 6A
Friday
The World's End – The director and stars of Shaun of the Dead and Hot Fuzz have joined forces for a third movie-and it's "Barmageddon," their biggest yet. As ever, they're as happy to be here as you are. So expect candid chatter and spirited surprises as they take the wraps off their new comedy, which Focus Features is opening nationwide in the U.S. on August 23. 10:00am – 11:00am, Hall H
Veronica Mars Special Video Presentation and Q&A – Join cast members Kristen Bell, Francis Capra, Enrico Colantoni, Percy Daggs III, Jason Dohring, Ryan Hansen, Chris Lowell, Tina Majorino and Krysten Ritter along with producer and director Rob Thomas in a panel moderated by Entertainment Weekly's Jeff Jensen. Fresh off the set of the film that was funded by over 90,000 devoted fans through Kickstarter, attendees will have an opportunity to see exclusive footage, hear details about the production, and ask the cast and producers questions about this upcoming movie. 11:15am – 12:00pm, Hall H
Kick-Ass 2 and Riddick – Universal Pictures presents an all-star panel featuring talent from two of its highly anticipated summer films. In attendance will be stars and filmmakers from the action-comedy Kick-Ass 2. Attending from Riddick will be the action-adventure's star/producer Vin Diesel (Fast & Furious 6), along with actors Katee Sackhoff (Battlestar Galactica) and Dave Bautista (The Man with the Iron Fists) and Riddick's writer/director David Twohy (The Fugitive). 12:15pm – 1:15pm, Hall H
AMC's The Walking Dead – Series stars Andrew Lincoln, Norman Reedus, Steven Yeun, Lauren Cohan, Danai Gurira, David Morrissey, Scott Wilson, and Chad Coleman join executive producer and showrunner Scott Gimple, executive producer Robert Kirkman, executive producer Gale Anne Hurd, executive producer Dave Alpert, and special effects makeup supervisor and executive producer Greg Nicotero in a panel moderated by Chris Hardwick (The Nerdist, Talking Dead). The panelists will discuss the record-breaking third season of The Walking Dead and what to look forward to in season 4, debuting this fall on AMC. Join the panelists for a one-on-one Q&A session and an official sneak preview of season 4. 1:35pm – 2:30pm, Hall H
Game of Thrones Panel and Q&A Session – Based on the bestselling fantasy book series A Song of Ice and Fire by George R. R. Martin, HBO's Game of Thrones concluded its 10-episode third season in June and will begin filming its fourth season this summer. The series, executive produced and written by David Benioff and D. B. Weiss, is an epic story of treachery and nobility, set on the continent of Westeros, where summers and winters can last years. Featured cast include: (in alphabetical order): John Bradley as Samwell Tarly, Emilia Clarke as Daenerys Targaryen, Nikolaj Coster-Waldau as Jaime Lannister, Peter Dinklage as Tyrion Lannister, Michelle Fairley as Catelyn Stark, Kit Harington as Jon Snow, Rose Leslie as Ygritte, and Richard Madden as Robb Stark. The panel will be moderated by Elvis Mitchell. 2:50pm – 3:45pm, Hall H
Sony & Screen Gems –
Cloudy with a Chance of Meatballs 2 – You remember Sony Pictures Animation's Cloudy with a Chance of Meatballs — Flint Lockwood invented a machine that turned water into food, and it worked, but it also unleashed a dangerously delicious tsunami of food weather and Flint was forced to destroy it. Or so he thought…In Cloudy with a Chance of Meatballs 2, the adventure and fun continue when Flint discovers that his old invention is still working and is now creating new food-animal hybrids — foodimals! Come join stars Anna Faris and Terry Crews along with directors Cody Cameron and Kris Pearn, to get a taste of this new animated movie from Sony Pictures Animation.
The Mortal Instruments: City of Bones – Set in contemporary New York City, a seemingly ordinary teenager, Clary Fray (Lily Collins), discovers she is the descendant of a line of Shadowhunters, a secret cadre of half-angel warriors locked in an ancient battle to protect our world from demons. After the disappearance of her mother (Lena Headey), Clary must join forces with a group of Shadowhunters, who introduce her to a dangerous alternate New York called Downworld, filled with demons, warlocks, vampires, werewolves and other deadly creatures. Based on the worldwide best-selling book series. Please join best- selling author, Cassandra Clare, along with the film's director Harald Zwart and stars Lily Collins, Jamie Campbell Bower, Robert Sheehan and Kevin Zegers for a first look at exciting new footage and discussion of The Mortal Instruments: City of Bones.
RoboCop – In RoboCop, the year is 2028 and multinational conglomerate OmniCorp is at the center of robot technology. Overseas, their drones have been used by the military for years — and it's meant billions for OmniCorp's bottom line. Now OmniCorp wants to bring their controversial technology to the home front, and they see a golden opportunity to do it. When Alex Murphy (Joel Kinnaman) – a loving husband, father and good cop doing his best to stem the tide of crime and corruption in Detroit — is critically injured in the line of duty, OmniCorp sees their chance for a part-man, part-robot police officer. OmniCorp envisions a RoboCop in every city and even more billions for their shareholders, but they never counted on one thing: there is still a man inside the machine pursuing justice. Join stars Joel Kinnaman, Abbie Cornish, and Samuel L. Jackson along with director José Padilha for insight into this eagerly awaited movie.
The Amazing Spider-Man 2 – Last year, Andrew Garfield, along with director Marc Webb and producers Avi Arad and Matt Tolmach, launched a new chapter in the Peter Parker story with The Amazing Spider-Man. With a new installment in the franchise due in 2014, join us in Hall H for one of Comic-Con's most highly anticipated panels to hear a bit about what awaits Peter Parker in The Amazing Spider-Man 2. 4:05pm – 6:15pm, Hall H
Marvel's Agents of S.H.I.E.L.D. on ABC – Jeph Loeb (Marvel's head of television), Joss Whedon (Marvel's The Avengers), and surprise guests reveal top-secret new information about the first live-action television series from the House of Ideas. No Comic-Con attendee can afford to miss this historic panel! 1:45pm – 3:00pm, Ballroom 20
Almost Human Pilot Screening and Q&A – In the near future, technology and crime will increase so quickly that law enforcement will not be able to keep up. To maintain order and keep the public safe, all police officers must partner with highly evolved human-like-androids known as synthetics. From creator J. H. Wyman (Fringe) and J. J. Abrams's Bad Robot Productions, Almost Human tells the story of Detective John Kennex and his synthetic partner Dorian, who must learn to work together in order to survive. Attendees will see a screening of the complete pilot episode, followed by a Q&A with series stars and producers. From Bonanza Productions Inc. in association with Bad Robot Productions and Warner Bros. Television, Almost Human premieres this fall on FOX. 4:00pm – 5:00pm, Ballroom 20
World Premiere of Justice League: The Flashpoint Paradox – Warner Bros. Home Entertainment, DC Entertainment, and Warner Bros. Animation invite you to be the first to experience Justice League: The Flashpoint Paradox, the highly anticipated next entry in the ongoing series of DC Universe Animated Original Movies. When time travel allows a past wrong to be righted for Flash and his family, the event's temporal ripples prove disastrous, creating a fractured alternate reality where the Justice League never formed, and even Superman is nowhere to be found. Amidst a new world being ravaged by a fierce war between Wonder Woman's Amazons and Aquaman's Atlanteans, Flash must team with a grittier, more violent Batman and government agent Cyborg to restore the continuity of Flash's original timeline. Come for the film, but stay for the star-studded panel that features Grey's Anatomy stars Justin Chambers and Kevin McKidd as Flash and Batman, respectively, along with C. Thomas Howell (Southland), Cary Elwes (The Princess Bride), Sam Daly (The Daly Show), and a few surprise voice cast members, plus the filmmaking team of producer James Tucker (Superman: Unbound), director Jay Oliva (Batman: The Dark Knight Returns), dialogue director Andrea Romano (Batman: The Dark Knight Returns), screenwriter Jim Krieg (Green Lantern: The Animated Series), and character designer Phil Bourassa (Young Justice). Moderator Gary Miereanu will add to the fun with a special announcement of the 2014 DCU movie slate, as well as exclusive, cast-autographed prizes for a few lucky fans. Based on the landmark mini-series by Geoff Johns and Andy Kubert, Justice League: The Flashpoint Paradox will be available as a digital download on July 19 and a Blu-ray Combo Pack on July 30. 7:30pm – 9:30pm, Ballroom 20
BBC America's Orphan Black – "There's no better special effect on television right now than Tatiana Maslany playing a variety of clones," says Entertainment Weekly. The stars of BBC America's Orphan Black — Critics' Choice Best Actress winner Tatiana Maslany, Jordan Gavaris, Dylan Bruce and co-creators Graeme Manson and John Fawcett — discuss the first season of the critically acclaimed clone thriller. Smart, sexy, and pulsating with suspense, the series begins with Sarah (Maslany), a punk outsider and orphan whose life changes dramatically after witnessing the suicide of a woman, "Beth," who looks just like her. Sarah takes Beth's identity, boyfriend, and money. But instead of solving her problems, the street-smart chameleon is thrust headlong into a kaleidoscopic mystery. She makes the dizzying discovery that she and the dead woman are clones…but are they the only ones? Sarah quickly finds herself caught in the middle of a deadly conspiracy, racing to find answers. 7:00pm – 8:00pm, Room 7AB
Saturday
Warner Bros. Pictures and Legendary Pictures –
Legendary Pictures: Godzilla – An epic rebirth to Toho's iconic Godzilla, this spectacular adventure pits the world's most famous monster against malevolent creatures who, bolstered by humanity's scientific arrogance, threaten our very existence. Gareth Edwards directs Godzilla, which stars Aaron Taylor-Johnson, Ken Watanabe, Elizabeth Olsen, and Juliette Binoche, with David Strathairn and Bryan Cranston. The screenplay is by Max Borenstein, Frank Darabont, and Dave Callaham. Thomas Tull and Jon Jashni are producing with Mary Parent and Brian Rogers. Alex Garcia and Patricia Whitcher are the executive producers, alongside Yoshimitsu Banno and Kenji Okuhira. The film is from Warner Bros. Pictures and Legendary Pictures.
Legendary Pictures: Seventh Son – The fantasy action adventure Seventh Son takes audiences to a time long past, where evil is about to be unleashed. Jeff Bridges stars as Master Gregory, a Falcon Knight who imprisoned the malevolently powerful witch Mother Malkin (Julianne Moore) years ago. Now escaped, she seeks vengeance, and Gregory has only until the next blood moon to train a new apprentice (Ben Barnes), the seventh son of a seventh son, to fight a dark magic unlike any other. Oscar nominee Sergei Bodrov directs an international cast that includes Alicia Vikander, Kit Harington, Olivia Williams, Antje Traue, and Djimon Hounsou. The film is from Warner Bros. Pictures and Legendary Pictures.
Warner Bros. Pictures: 300: Rise of an Empire – From producer Zack Snyder, Warner Bros. Pictures and Legendary Pictures present a new chapter in this epic saga, based on Frank Miller's graphic novel Xerxes and told in the same breathtaking visual style as the blockbuster 300. Directed by Noam Murro, 300: Rise of an Empire takes the action to a fresh battlefield-on the sea-with a cast of both new and returning stars, led by Sullivan Stapleton, Eva Green, Lena Headey, Hans Matheson, David Wenham, and Rodrigo Santoro. Gianni Nunnari, Mark Canton, Zack Snyder, Deborah Snyder, and Bernie Goldmann produce, with Zack Snyder and Kurt Johnstad again collaborating on the screenplay.
Warner Bros. Pictures: Gravity – From director Alfonso Cuarón comes the sci-fi Thriller Gravity, starring Sandra Bullock and George Clooney. Dr. Ryan Stone (Bullock) is a brilliant medical engineer on her first shuttle mission, alongside veteran astronaut Matt Kowalsky (Clooney). On a seemingly routine spacewalk, disaster strikes, leaving them completely alone-tethered to nothing but each other and spiraling out into the blackness. The deafening silence tells them they have lost any link to Earth…and any chance for rescue. As fear turns to panic, every gulp of air eats away at what little oxygen is left. But the only way home may be to go further into the terrifying expanse of space.
Warner Bros. Pictures: The LEGO Movie – From directors Phil Lord and Christopher Miller of 21 Jump Street comes the first ever full-length theatrical LEGO adventure, The LEGO Movie, about a perfectly average LEGO minifigure named Emmet who is mistakenly identified as the most extraordinary person and the key to saving the world. He is drafted into a fellowship of strangers on an epic quest to stop an evil tyrant, a journey for which he is hopelessly and hilariously underprepared. The original 3D computer animated story stars Chris Pratt, Will Ferrell, Elizabeth Banks, Will Arnett, Nick Offerman, and Alison Brie, with Liam Neeson and Morgan Freeman. 10:45am – 1:15pm, Hall H
Lionsgate – Featuring I, Frankenstein and The Hunger Games: Catching Fire – I, Frankenstein stars Aaron Eckhart and Yvonne Strahovski appear with film director/writer Stuart Beattie and graphic novel author/writer Kevin Grevioux. Plus, the cast of the highly anticipated second installment of The Hunger Games: Catching Fire comes to Hall H for the first time. Panel moderated by Fandango chief correspondent Dave Karger. Never-before-seen footage is showcased from both films. Includes Q&A opportunity. 1:35pm – 2:35pm, Hall H
20th Century Fox – TBA. 4:15pm – 5:45pm, Hall H
Marvel Studios: Thor: The Dark World and Captain America: The Winter Soldier – Marvel Studios president and producer Kevin Feige and many surprise guests provide an inside look at the ever-expanding Marvel cinematic universe. 6:00pm – 7:00pm, Hall H
Arrow Special Video Presentation and Q&A – After failing to foil Malcolm Merlyn's undertaking, Oliver Queen and team look to get back on track by crossing another name off the list: Comic-Con 2013. Arrow series stars Stephen Amell (Hung), Katie Cassidy (Melrose Place), David Ramsey (Dexter), Emily Bett Rickards (Flicka: Country Pride), and Colton Haynes (Teen Wolf) — with executive producers Greg Berlanti (Green Lantern), Marc Guggenheim (Eli Stone), and Andrew Kreisberg (Fringe)-will take aim at San Diego with a special video presentation and panel discussion previewing the show's upcoming and much-buzzed-about second season, which will center on Oliver's transformation from vigilante to hero. Arrow: The Complete First Season will be released on Blu-ray, DVD and UltraViolet on September 17. Based on characters appearing in comic books and graphic novels published by DC Comics, Arrow is from Bonanza Productions Inc. in association with Berlanti Productions and Warner Bros. Television. The series returns for a second season this fall, airing Wednesdays at 8/7c on The CW. 5:15pm – 6:00pm, Ballroom 20
Sunday
Breaking Bad – AMC's Breaking Bad creator and executive producer Vince Gilligan appears with the cast of Breaking Bad, including Bryan Cranston, Aaron Paul, Anna Gunn, Dean Norris, Betsy Brandt, R. J. Mitte, and Bob Odenkirk. In a panel moderated by Chris Hardwick, Vince and the cast talk about what it was like to shoot the final episodes of one of the boldest and most intense dramas on television and how they are preparing for the series' final moments. Join the panelists for a one-on-one Q&A session and an official sneak preview of the final eight episodes of Breaking Bad season 5, premiering Sunday night, August 11 at 9:00. 11:15am – 12:15pm, Hall H
BBC America's Doctor Who 50th Anniversary – BBC America presents the Doctor Who 50th Anniversary panel featuring Doctor Who stars Matt Smith and Jenna Coleman, award-winning lead writer and executive producer Steven Moffat, An Adventure in Space and Time star David Bradley, and award-winning writer/executive producer Mark Gatiss. The Doctor Who 50th Anniversary Special will premiere November 23, on BBC America. As part of the celebrations in November, An Adventure in Space and Time will tell the story of the genesis of Doctor Who, with David Bradley starring as the first ever Doctor, William Hartnell. [Editor's Note: There are rumors the new Doctor will be announced at the panel] 12:30pm – 1:30pm, Hall H
Community: Celebrating the Fans – Community is back at Comic-Con, and the show is making its Hall H debut to celebrate the devoted Community fandom! Currently confirmed are cast members Gillian Jacobs, Danny Pudi, Yvette Nicole Brown, Alison Brie, Jim Rash, and Ken Jeong, plus executive producers Dan Harmon and Chris McKenna and co-executive producer Andy Bobrow, moderated by Chris Hardwick (The Nerdist). Be a part of the study group for a panel and Q&A, and you'll find out firsthand what surprises are in store for the Sony Pictures Television's comedy series when it returns to NBC for its fifth season. Community launches in broadcast syndication and on Comedy Central this September. 1:50pm – 2:45pm, Hall H
So, now you have an idea of what we'll be covering at Comic-Con this year. As always, things change, and the week is very fluid. You can check all of our coverage so far by clicking here, which just so happens to be where you can see our coverage going forward as well. If you're at the convention, hit us up on Twitter or Facebook to meet up, and stay tuned for possible giveaways.