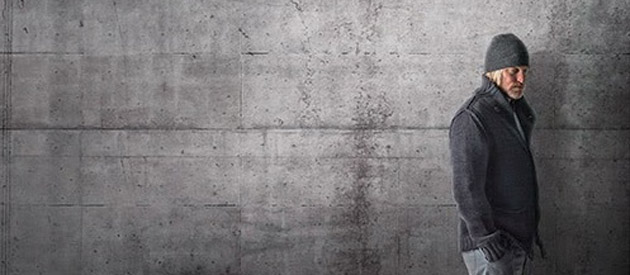 The viral marketing for The Hunger Games: Mockingjay Part 1 continues to flourish as a set of new character posters have been released. Hot off the teaser trailer debut from last week, these new character posters profile the citizens of District 13. As you can imagine, the character posters mirrors what District 13 has, which is not much to begin with. Hence you see these characters is monotone grabs with stoic looks on their faces. These are polar opposites to the heroes of District 1-12 posters that were released earlier this year, which isn't saying much considering we know how oppressive President Snow can be.
The first set of character posters focuses on Philip Seymour Hoffman, Julianne Moore, Elizabeth Banks, Jeffrey Wright, Sam Claflin and Woody Harrelson, while others are likely to hit the web soon. Hit the jump to check them all out.
We should be getting posters for Katniss, Primrose, and Gale, but it should be interesting to see if Peeta and Johanna will get posters like these but for District 1.
Also could these new posters signal a full theatrical trailer being released in the near future. We are only a few more months away from the release of the first half of the final trilogy, so it only would make sense if we got to see a theatrical trailer being released.
The Hunger Games: Mockingjay – Part 1 opens November 21. Part 2 opens November 20, 2015.
Thanks to Firstshowing via /film for posting these posters.
The worldwide phenomenon of The Hunger Games continues to set the world on fire with The Hunger Games: Mockingjay – Part 1, which finds Katniss Everdeen (Jennifer Lawrence) in District 13 after she literally shatters the games forever. Under the leadership of President Coin (Julianne Moore) and the advice of her trusted friends, Katniss spreads her wings as she fights to save Peeta (Josh Hutcherson) and a nation moved by her courage. The Hunger Games: Mockingjay – Part 1 is directed by Francis Lawrence from a screenplay by Danny Strong and Peter Craig and produced by Nina Jacobson's Color Force in tandem with producer Jon Kilik. The novel on which the film is based is the third in a trilogy written by Suzanne Collins that has over 65 million copies in print in the U.S. alone. Lionsgate presents, a Color Force / Lionsgate production, a Francis Lawrence film.