We've been keeping tabs on a viral site for Legendary Pictures' upcoming reboot of Godzilla. In our previous reports, we've included photos of a mysterious warehouse in Downtown San Diego where a massive off-site event is to take place. Find out what it is after the jump!
It is known that Warner Bros. and Legendary Pictures will be showcasing Godzilla during their panel in Hall H during Comic-Con this year, but there will be an off-site event as well. A Tumblr titled "Godzilla Encounter" came online last week and posted two screen shots of news reports, one from The Osaka Tribune and the other from the Citizen Weather Watch with letters (s, and e) highlighted in red in each post.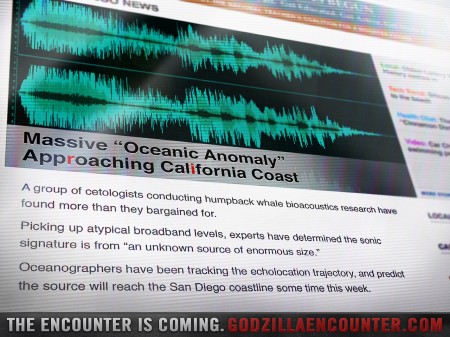 Another was posted earlier today, this time reporting a "sonic signature" from an unknown, enormous source. We also get two more red letters, this time an r and an i to spell out the word RISE. It is unclear whether there will be more posting leading up to SDCC. However, details regarding the offsite event have been revealed. According to SDCC Blog, the event will take place at 704 J Street.
During Comic-Con, a walkthrough exhibit presents legacy and return of a beloved movie monster. You'll be transported to the heartland of the monster's history followed by decades of pop culture legacy. Try to unlock exclusive content and have a thrilling encounter with the creature itself.
Director of Godzilla, Gareth Edwards released a video teasing the event too.
What do you think this "encounter" will entail? Stay up-to-date on all the latest SDCC news over on our Comic-Con hub!
Godzilla hits theaters May 16th, 2014!
Source: SDCC Blog